In June 2020, after a time of illness, we were devastated to lose our beloved Bald Eagle, Kayla.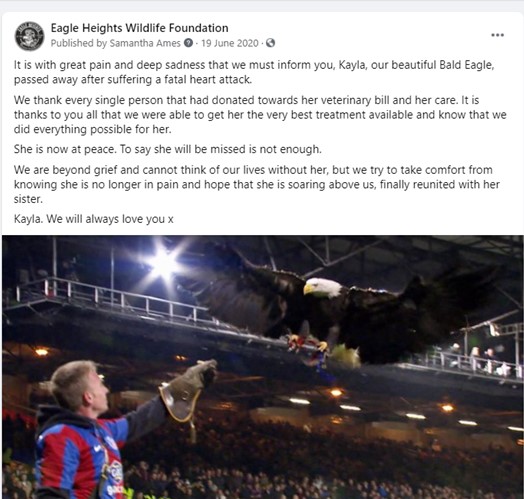 Kayla was a legend of her own making. From beating the odds as a youngster to relocating to the UK, She then went on to star in Hollywood movies, magazines, music videos and more. She was also an ambassador for conservation, flying at demonstrations all over the Uk and as far away as Hamburg! She would inspire and impress all that met her.
Perhaps her most famous and we think her favourite job of all was being crowned the Official Live Mascot for Crystal Palace FC in South London. She was the queen of the pitch.
Kayla was approaching her 10th Season with CPFC and would have likely been treated to a testimonial match fit for royalty!
We thank everyone that showed us such love and kindness last year when we made our emotional announcement and we will continue to remember Kayla as the legend she was.
Official 'Remembering Kayla' Merchandise coming soon as well as an exciting initiative to keep Kayla's memory alive by helping Bald Eagles in her native home. Watch this space.
Kayla's story remains below:-
---
Her Story....
Kayla's story began in Canada where she was born with her sister. Barely chicks, they were cruelly stolen from the wild. Later, they were found by authorities and quickly released back into the wild.
Unfortunately, as a result of their lack of natural upbringing, they were unable to hunt and began stealing food from the locals! After a year in the wild, Kayla and her sister were re-caught and taken to a rehabilitation centre...that didn't last long...! They were sent to
The Ontario Veterinary College where they were used for educational programmes; but became much more aggressive as they got older, becoming too much for the college to handle! Eagle Heights then received a call, asking if we could rescue the pair and look after them, of course, we said yes! But, as Bald Eagles are a highly protected species in Canada, there was a lot of paperwork to do. Whilst this paperwork was being carried out, Kayla's sister was sadly put to sleep... As soon as Alan Ames (Founder of Eagle Heights Wildlife Foundation) found out about this, he was on the first flight over to be with Kayla and ensure that nothing would happen to her.
Once the paperwork was finalised, Alan returned to Eagle Heights with Kayla safely in his care. It was a special time. Despite her troubled beginning, Kayla has really found her wings at Eagle Heights. She has been fortunate to find a forever home here and all that lay eyes on her simply fall in love with her grace! Over the years she has become a very famous Eagle, appearing on the cover of The Kings of Leon album and in their specialised fan magazine.
But her latest victory has been scoring a place in the Crystal Palace Football Club Team! After appearing at a few home matches for the football club, everyone involved fell under her spell and became enchanted by her magnificent flights through the stadium! She was given the title of Official Live Mascot and is proud to support the club with their journey into the Premier League! In 2015 Eagle Heights were forced to make an appeal for funding to support the centre in its efforts to survive the difficult financial times.
Due to Kayla's huge fan base and the kindness of the CPFC Supporters we were able to raise enough money to support the centre whilst putting the vital steps in place for its long-term survival. Eagle Heights will always be grateful to the CPFC Supporters
So, whether it be at the next 'Eagles' Match or at Eagle Heights Wildlife Foundation, please make sure you visit this amazing Eagle at least once. If you would like to donate towards her keep, sponsor her for a year or even just buy a Kayla poster, please get in touch via the methods below Make a Donation Call us to sponsor Kayla 01322 866 577